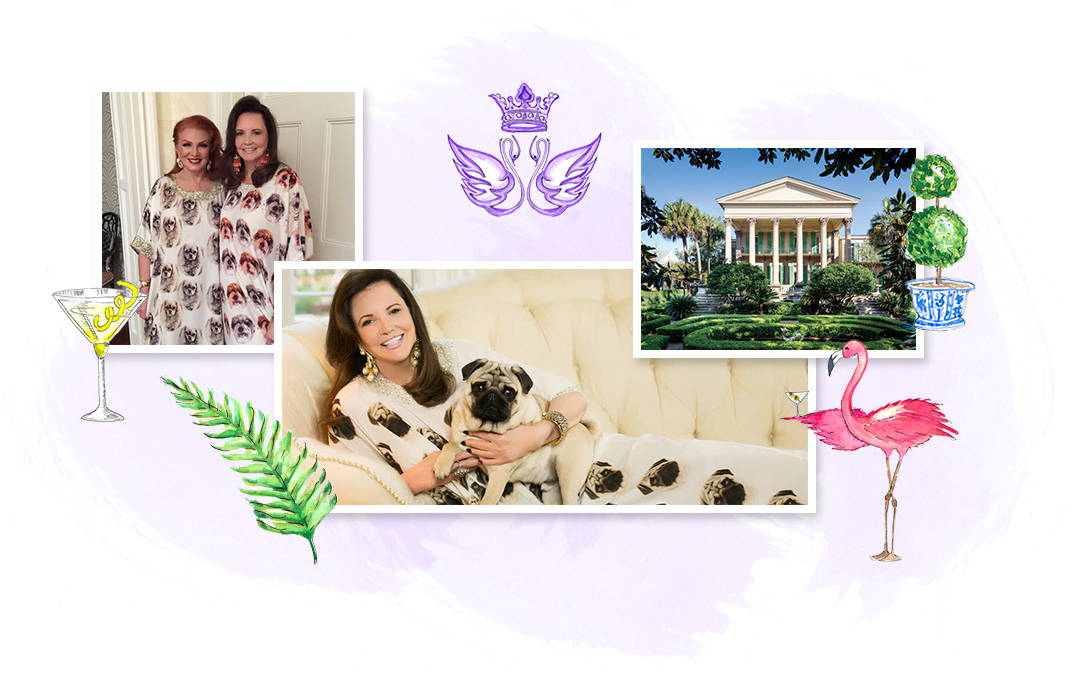 My passion for caftans has inspired me to start my own line thanks to my friend and favorite entrepreneur, Georgette Mosbacher. It all started when we took a trip to India together and met Sherina Dalamal, a very successful young bespoke fashion designer. While we were there, we talked about how much we loved caftans and how it would be fun to have one with the image of a favorite pet on it. Georgette is obsessed with her Cavalier King Charles Spaniel named Guinevere, and everyone knows how I feel about the members of my extended dog family. Sherina made a customized caftan for Georgette, everyone wanted it, and we knew we were on to something.
Georgette and I have busy lives, and when we travel together, we're at the age when girls just want to have fun. The last thing either of us needed was a business opportunity. But we couldn't resist the idea of offering pet lovers a beautiful and lightweight caftan that can feature a silk-screened image of their dog or cat, or any animal (how about your pet iguana?). They're whimsical, comfortable, and extremely flattering. And I love the idea of draping myself in a fabric imprinted with Chauncey's sweet little face.
Designer Sherina Dalamal was born and raised in the UK. Educated at Central Saint Martins, Sherina studied Textiles for 4 years before specializing in couture embroidery at L'Ecole de Lesage. She has also earned invaluable experience working with some of the world tops fashion professionals such as Alexander McQueen and Nicole Farhi. Her deep understanding of western cuts can be seen throughout her CHERIE D collections which encompass silhouettes of different forms: embroidered dresses, tapered shirts and skirts that are all enhanced by the subtle choice of embroidery and beadwork which add that hint of glitz and glamour.
- Patricia Altschul, Founder of Patricia's Couture